This new advertising campaign for Stella Artois is designed to emphasise the quality of the product. It implies that Stella contains only the four traditional ingredients of beer: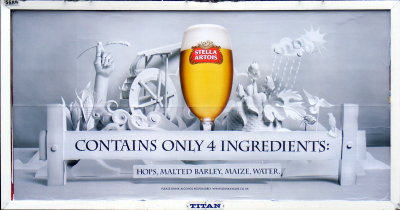 That's right — hops, malted barley, maize and water.
Maize!? Rather than trying to hide the fact they they use corn as an adjunct to make the beer cheaper, they're boasting about it, counting on the fact that most people won't know any better. Hardly honest, but bloody clever.
And they've avoided mentioning all that yucky yeast, too, in case the thought of it puts anyone off.