This new adver­tis­ing cam­paign for Stel­la Artois is designed to empha­sise the qual­i­ty of the prod­uct. It implies that Stel­la con­tains only the four tra­di­tion­al ingre­di­ents of beer: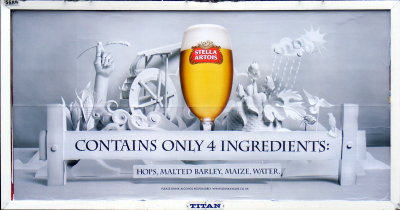 That's right – hops, malt­ed bar­ley, maize and water.
Maize!? Rather than try­ing to hide the fact they they use corn as an adjunct to make the beer cheap­er, they're boast­ing about it, count­ing on the fact that most peo­ple won't know any bet­ter. Hard­ly hon­est, but bloody clever.
And they've avoid­ed men­tion­ing all that yucky yeast, too, in case the thought of it puts any­one off.